YOU PUT YOUR N.C. WITCHY WOMAN SNOW CURSE ON ME!
LOOK WHAT HAPPENED IN MARYLAND TODAY!!!!!!!!!!!!
"A fast-moving storm brought a light blanket of snow into much of Central Maryland today, snarling traffic, closing schools early and creating blizzard-like conditions in some areas. The weather caused a number of accidents, and I-95 was shut down in both directions near Beltsville due to downed power lines."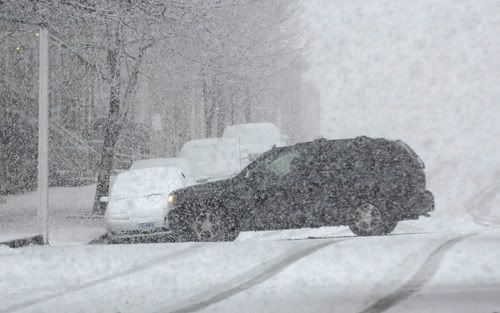 IT TOOK 45 MINUTES TO DIG MY CAR OUT! THE TRAFFIC WAS INSANE GOING HOME (MARYLAND DRIVERS...UGH)...THEN WHEN I GOT HOME, I HAD TO WAIT FOR THE SNOW TO STOP AND SHOVEL. IN THE FRONT I HAVE A LONG SIDEWALK, 22 STEPS, A WALKWAY AND A PORCH. IN THE BACK,I HAVE A PORCH WITH 7 STEPS, A PATIO AND A LONG WALK. IT'S COLD. I ACHE. I BLAME IT ALL ON YOU, YOU WICKED WINTER WITCH! GRRRRRRRRRRRRRRRR! (secretly, I still love ya though)