Went to NYC yesterday with my mom, 2 sisters and my niece to see the Radio City Music Hall's 75th Anniversary Christmas Show!
The show was absolutely incredible! True Christmas magic!! We all enjoyed it so very much! If anyone gets the chance to see it,I highly recommend it! The Rockettes wre such fun in all of their numbers, as was Santa Claus...the toy soldiers were so so cute and retelling of the Nativity was awe inspiring! So...anyhoo, the show was at 5:00pm...so before that, we spent most of our time on Broadway...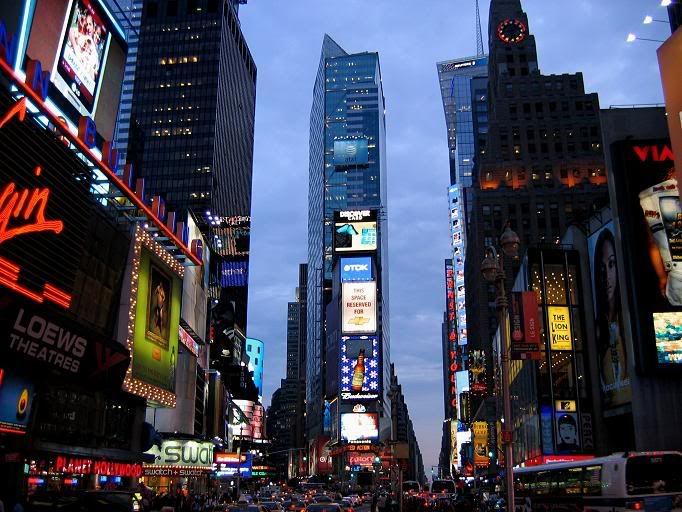 The Bus we rode was pretty comfy and the driver was very friendly...we lucked out and got the very front seats! We were dropped off in Times Square at The Paramount Building at 11:00am and followed some guys from the bus to Carmine's, a restaurant they recommended highly. I am SO glad they did! The food was fantastic! Carmine's is a family style Italian restaurant...
http://www.carminesnyc.com/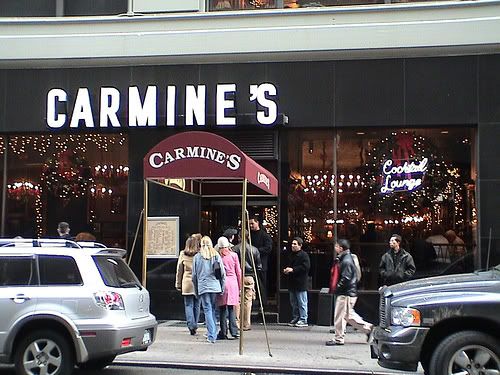 ...okay,picture this...we had a huge basket of various breads (more than the 5 of us could eat), a huge 'Carmine Salad'(Iceberg lettuce, Arugula, escarole, chopped salami, gaeta olives, Mortadella, Romano & provolone cheese, red onion, celery, cerignola olives, oregano, olive oil, red wine vinegar, pepperonini, cucumbers, and tomatoes, radishes & roasted peppers), a colossal lasagne (the best I've ever eaten in a restaurant and my family agreed), a giant bowl of spinach, which was incredible, and our drinks...all of that...plus an OVER 20% tip for only $20.00 from each of us!! IN NYC!! PLUS...our waiter was HOT! LOL! A 20-something Italian guy with a headfull of jetblack curls...such a cutie!
After eating, we hit some souvenir shops and bought some silly things and some things that we couldn't find here thataren't really aren't souvenirs. We took lots of pics on Broadway and Times Square...LOL...we even ran into THIS guy...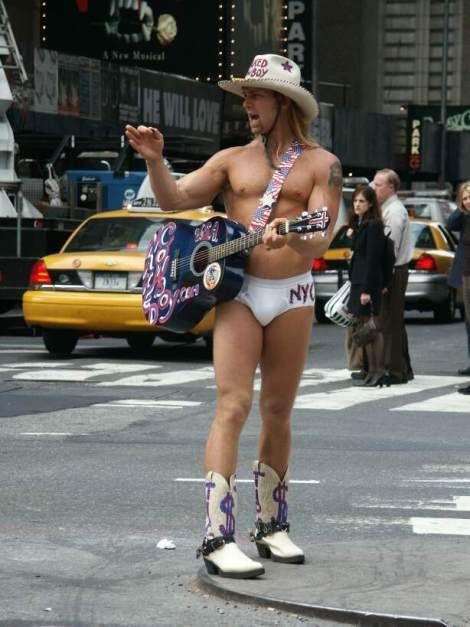 ...LMAO! Mom says,"It's the Naked Cowboy...WTF? My mom knows the Naked Cowboy? Okay...it was cold as a witches kiss in New York yesterday! LOL...and this guy is standing in Times Square in his tighty whities! What a man! We put some money in his guitar and tried to get mom to pose with him but she took off...hahahaha! So funny! He's a really nice guy...tall and one hell of a build!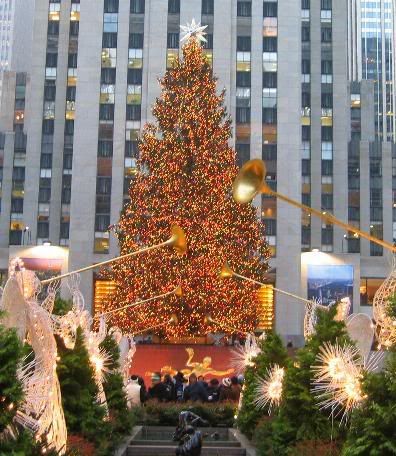 One of the last things we did before we hurried down to Radio City Music Hall was go to Rockefeller Center to see the Christmas tree and all the ice skaters...it was packed and so beautiful! We had such a wonderful time. Seing the show really topped it all off...did I mention they made it snow inside the Hall?! :)
After the show, we grabbed hot dogs from a vendor hurried to our pickup spot, boarded the bus and watched 'Everybody Loves Raymond' and 'Romancing the Stone' on the way home. Perfectly lovely day! :)