My nephew turns 9 on December 4th and I was looking for a few extra things to get him yesterday. *grin* I think I found just the things...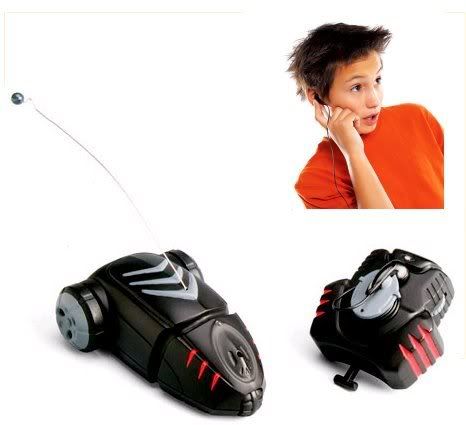 Mobile Spy Ear
When you're playing spy, it helps to know what the opposition is up to! With the Mobile Spy Ear, you can listen to top-secret conversations without being detected. Just pull it back, let it go, and send it out to spy. The Mobile Spy Ear silently travels up to 30 feet. The receiver on the vehicle transmits sound to your remote ear bud, allowing you to hear through walls, windows, doors and floors from up to 75 feet away. Never be the last to know!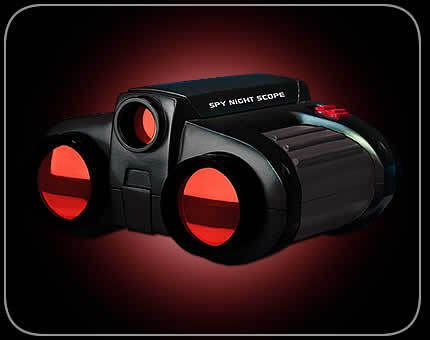 The Spy Night Scope
Shed some light on your spy gear collection. This amazing Spy Night Scope allows you to see in the dark with a special night-vision beam. The Spy Night Scope works like binoculars, but has a pop-up spotlight allowing you to see up to 25 feet in the dark. Green-tinted lenses and beam illuminate the night for stealth surveillance. Scope also features 5x power magnification to bring faraway objects up close.
Spy Agent Action Briefcase
The Spy Agent Action Briefcase is more than just a smart storage solution; it's a spy emergency kit that comes with the must-have tools for every mission - a motion alarm, red light, vision scope, darts and launcher! The unassuming sturdy black case contains a secret compartment and offers enough space internally for additional spy equipment, as well a DVD, iPod, portable game player or other gadgets.
Use the bright red beam of the removable Spy Light to review the schematic of a top-secret plan. Look down the alley (or hallway) with the magnifying Spy Scope to determine if the coast is clear. Set up the removable Motion Alarm to guard your gear. Launch darts out of the side of the briefcase, individually or two at a time, depending on how fast your enemy is approaching. When you're called to action you can arrive prepared, and in style!
****I guess I should warn his mom, dad, sis and all the neighbors ahead of time, eh?! LOL!****