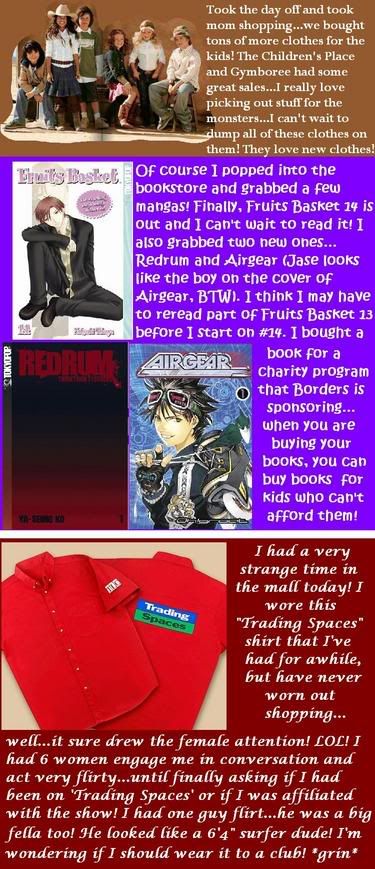 Book descriptions under cut...
REDRUM 327
Book Description
When a group of seven young college students go off to enjoy a weekend getaway at a remote mountain villa, secrets that haunt the friends are unveiled--which lead to bizarre love triangles, tragic relationships, and deadly betrayal. And when hallucinations and strange disappearances begin, their dream vacation turns into a nightmare...
AIRGEAR
Book Description
WANNA FLY?
Itsuki Minami needs no introduction–everybody's heard of the "Babyface" of the Eastside. He's the toughest kid at Higashi Junior High School, easy on the eyes but dangerously tough when he needs to be. Plus, Itsuki lives with the mysterious and sexy Noyamano sisters. Life is never dull, but it becomes dangerous when Itsuki leads his school to victory over some vindictive Westside punks with gangster connections. Now he stands to lose his school, his friends, and everything he cares about. But in his darkest hour, the Noyamano girls come to Itsuki's aid. They can teach him a powerful skill that will save their school from the gangsters' siege–and introduce Itsuki to a thrilling and terrifying new world.
Fruits Basket 14
Book Description
Isuzu loves snooping through Shigure's life, especially when she's totally convinced that he is hiding something. But when Tohru finds a passed-out Isuzu in the house, she tries to drag Isuzu to the hospital. Meanwhile, Yuki goes to the ASB council room only to find it trashed again! But as the secrets of who vandalized the room come out of the closet, Yuki accidentally gets locked in one. Who will be the one to help her get out? The answer is right inside this next volume of the super-popular Fruits Basket, the world's most popular shojo manga!