Tuesday night, I got a phone call from my niece, Gwen (5)...I said, 'Hello?' and she replied with 'Hello, Uncle Mark, are you shopping or talking to Jaaaaaaaaaaaaaaaa-SON?'. LOL! I asked her if she thinks that's all I do...and she said, 'Nope...you have to work!'. *grin* What a little monster! I actually chit-chatted with her for close to a half an hour about her day and stuff. I love kids!
Is anyone watching 'Project Runway'? I have to say, I didn't care for Malan at first, but I felt kinda sorry for him at times in last night's show. I think the judges were absolutely wrong in eliminating him instead of Angela! He, at least created a dress and had a vision and worked with his partner. Angela spent all of her drawing time trying to talk Kayne into choosing her to be his partner...she had no sketches to show the client and she allowed Vincent to freeze her out and just gave up! Why should she be allowed to stay?
On Big Brother, I'm almost positive that Nakomis is history...and while she may be boring, I'd rather see Diane go! I think Kaysar is a fool for not putting up Mike and Will...that mistake is going to get him booted out real quick...unless the BB6 alliance keeps winning HoH and PoV!
Coming in to work this morning, I looked down into the creek that I walk over and saw this beautiful water bird...I tried to memorize it's markings so I could do a computer search and I believe it was a Blue Heron! So so incredible!!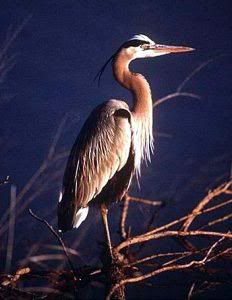 LOL...so sue me...I still get excited over seeing any kind of wildlife!
So...is it me or has LJ died out lately? Is everyone on vacation or have my rare posts been that bad? I was so disappointed that no one (except you, Greg) replied to my post about the Roleplaying Game that Jase and I participate in...LOL...I even posted it twice because the first time I posted it on the weekend. *makes a pouty face*
LOL...Did anyone besides Dale watch 'Kyle XY'? OMG! It was all about sex! Kyle was saved in the swimming pool by a girl he likes and he popped a big ol woody! Everyone laughed and the dad figure had to give him a lecture on sex and sexual response! Then the younger brother figure explained how to use porn mags to make the woody go away quicker! LOL!! I would have loved to demonstrate it all to Kyle...give him a hands-on education!! :b
**Guess that's all of the randomness for now**