So, I'm in book 2 of Mary Renault's Alexander trilogy, "The Persian Boy"…this covers the last 7 years of Alexander's life as told by the young courtesan and eunuch, Bagoas, that became Alexander's devoted lover. Book #1, "Fire From Heaven", was absolutely excellent and this one seems more exciting still yet! I have a shelf in my wall unit dedicated entirely to books on Alexander, so I guess you could say, I'm interested in the man and his exploits! LOL! I recommend Mary Renault's books if you have any interest at all…some of the best historical fiction I've read.
This gets me to thinking about Oliver Stone's 'Alexander'… UGH…in my humble opinion, a real disappointment! Alexander's genius was barely seen…some of his most incredible accomplishments were not even mentioned…and some of his most interesting and formative relationships were either barely touched on or changed drastically! The only things about this movie that were okay, again IMO, were the scenery, costumes and the casting of Angelina Jolie as his mother, Olympias, and the casting of Francisco Bosch as Bagoas! Don't get me wrong, I love Colin Farrel, Val Kilmer, Jared Leto, etc…I just don't see them as Alexander, Philip and Hephaestion!
I wish they would do a movie trilogy of Mary Renault's books! I think everyone would get a clearer picture of who he was.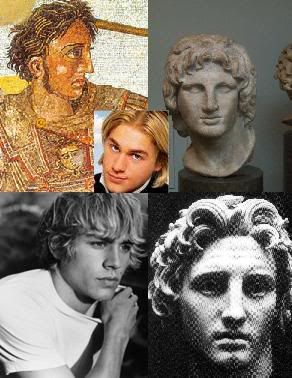 Y'know…I think, If I were casting, I would have Charlie Hunnam portray Alexander…I think he has the look and the ability to pull off the man's multitude of personalities! Okay…I guess that's about it!
.