I got quite a workout on Memorial day!
Temperatures were in the upper 90s and the humidity was 100 percent!
So...it all started at Home Depot, early in the morning...I took mom there to pick out flowers that she liked, while I picked up some new scalloped brick borders for the flowerbeds, a few bags of soil and a few bags of marble chips (for around the trees and bushes). I love my mom like crazy, but taking her shopping can be slow torture! LOL!! I had gathered up my things in no time and gone to find her...it took her an hour to decide on two...yes TWO flowers...we ended up buying 12 flowers (LOL...once I was there, I hurried things along as much as possible...so it didn't take us 6 hours!). Next, we stopped to eat and then hurry home to start the real work...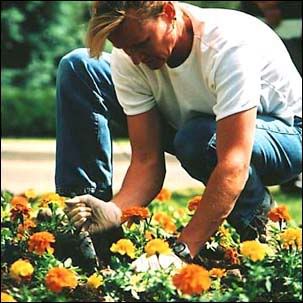 So...during the hottest part of the day, we were out in the yard working! I mowed...mom trimmed...I put down soil...mom swept...I put down the brick borders and marble chips...mom planted the flowers. We were out there all day...but I DID get a pretty good tan out of it! :)
One good thing...we met some new neighbors (look about 23-25)...they stopped and chatted for a bit...mom talked to the girl and I exchanged a few words with her hubby (a shirtless cross between Justin Timberlake and Eminem).
One thing I like about working in the yard...how GREAT the shower feels afterwards!!
.