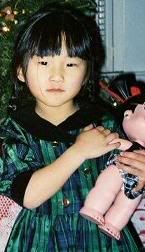 Today was Gweni's day! Her end of season dance recital! She was in a tap dancing number, a ballet number and the finale!
My whole family was there to support her (We took up a whole row!) and she was sooooooo happy and pleased with herself!
For her tap number, her group wore green shorts shirts and head scarves and they tapped to "I'll Never Grow Up" from 'Peter Pan'! I snapped a few pics of them rehearsing this one and then one during the performance!
Okay...the MC said that movie cameras were okay but not to snap pics of the kids during the dance routines because of the flashes...soooooooo...you KNOW I had to have pics! I just covered the flash and snapped away, since the kids were lit up by the stage lights!
The ballet number that Gweni was in was to "Give a Little Whistle" from Pinocchio! OMG...their dresses were beautiful! The skirts were like scarves and it was one shouldered...the colors were all like purple and teal and flowers were in their hair and along the one shoulder strap...she looked like a fairy princess!
I took lots of pics...especially afterwards with her and the flowers I gave her (pink roses)! Griffin, of course jumped into lots of the pics...LOL...pulling his shirt up, getting Gwen in a headlock, showing his biceps...*snicker*...he was proud of her though!
After the recital, we all went to a huge Chinese buffet and I had some delicious food! Gweni ate well and Griff as usual had half a plate of food and several desserts! LOL!!
Warning : I'll be posting pics when I get them developed!! :)
.