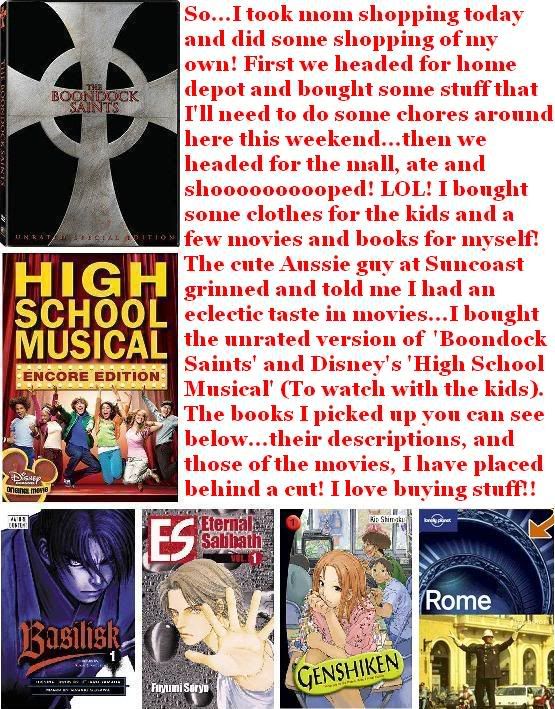 ES (Eternal Sabbath):
Book Description
MIND CONTROL
Ryousuke Akiba calls himself ES, a code name taken from a mysterious scientific experiment. Ryousuke will live to be at least two centuries old and possesses strange mental powers: He can enter people's minds, discover their darkest secrets, even rearrange their memories so that complete strangers will treat him like family. Ryousuke acts not out of malice but for survival–wandering Tokyo for reasons known only to him. No one recognizes him for what he is . . . until Dr. Mine Kujyou, a determined researcher, meets someone who challenges everything she knows about science–ES, possessor of the Eternal Sabbath gene. But is he the only one?
-----------------
Basilisk:
Book Description
THE BATTLE BEGINS
The Iga clan and the Kouga clan have been sworn enemies for more than four hundred years. Only the Hanzo Hattori truce has kept the two families from all-out war. Now, under the order of Shogun Ieyasu Tokugawa, the truce has finally been dissolved. Ten ninja from each clan must fight to the death in order to determine who will be the next Tokugawa Shogun. The surviving clan will rule for the next thousand years.
But not all the clan members are in agreement. Oboro of the Iga clan and Gennosuke of the Kouga clan have fallen deeply in love. Now these star-crossed lovers have been pitted against each other. Can their romance conquer a centuries-old rivalry? Or is their love destined to end in death?
-----------------------------------
Genshiken:
Book Description
MEMBERSHIP DRIVE
It's the spring of freshman year, and Kanji Sasahara is in a quandary. Should he fulfill his long-cherished dream of joining an otaku club? Saki Kasukabe also faces a dilemma. Can she ever turn her boyfriend, anime fanboy Kousaka, into a normal guy? Kanji triumphs where Saki fails, when both Kanji and Kousaka sign up for Genshiken: The Society for the Study of Modern Visual Culture.
Undeterred, Saki chases Kousaka through the various activities of the club, from costume-playing and comic conventions to video gaming and collecting anime figures–learning more than she ever wanted to about the humorous world of the Japanese fan . . .
---------------------------
High School Musical:
Plot Synopsis: Gabriella Montez is a shy, studious new student at East High School; but that all changes when she is forced to sing at a karaoke contest with Troy Bolton, the captain of the school's basketball team. After spending time with each other, both realize they share a passionate love for music and singing. But will they retain this love when their school is telling them they cannot be together?
------------------------------
Boondock Saints:
Plot Synopsis: Two Irish brothers accidentally killed mafia thugs. They turned themselves in and were released as heroes. They then see it as a calling by God and started knocking off mafia gang members one by one. Willem Dafoe plays the detective trying to figure out the killings, but the closer he was to catching the Irish brothers, the more he thinks the brothers are doing the right thing.