Did anyone else watch? For those who have never heard of it, this is the dance equivalent of American Idol!
The first show of the season was on last night and it was fun watching the contestants of varying talents try to qualify!
Several incredible dancers were highlighted...a tap dancer, street dancer, two classical dancers and the young Ukrainian couple below...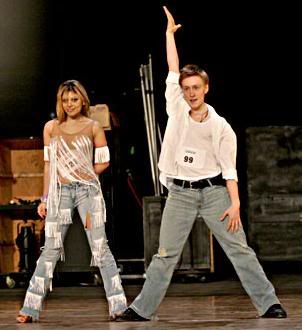 To me, it's really kind of a thrill to see the truely talented ones dance.
Then we have the delusionals...those who come in talking all kinds of trash and calling themselves 'superstars' and 'legends' and then staggering around like some drunken fool. (OMG! They had this guy who looked like Tiny Tim and he called himself 'Sex'...he was beyond bad and he thought he was dancing 'like the next male Britney Spears')
And speaking of dance, Sunday morning, I'll be going to Gweni's end of the season Dance Recital! I can't wait! I'm buying her flowers to give her after she dances! Expect photos!
.