Ten fictional characters you'd do in a second...
1)
Vanyel Ashkevron
- the first gay boy that I had read a novel about. He was the central character in Mercedes Lackey's Magic's Pawn, Magic's Promise and Magic's Price!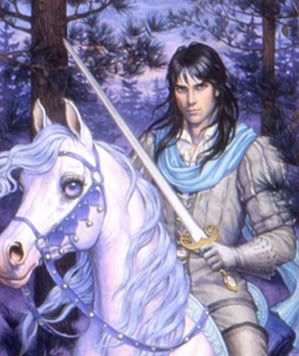 *************************
and in no particular order...
2)
Light Yagami
from 'Death Note'. Okay...he's a sociopath and a murderer, but he means well (*grin*) and he's so hot!
3)
Louis Pointe du Lac
from Anne Rice's Vampire Novels. I can't resist the vampire with a soul...no matter how angsty!
4)
Aidan
the irresistable young monk from Stephen Lawhead's 'Byzantine'
5)
Kurosaki Ichigo
from Bleach. Slender, ornery, redhead...he's cute and fun!
6)
KYO
(Sohma Kyou) from Fruits Basket. Another sexy, slender redhead...this one is misunderstood and high-spirited...how can you resist him?
7)
FROST
from the Merry Gentry novels...RAWR! Silver-haired, frosty on the outside and warm on the inside and a body to die for!
8)
GALEN
from the Merry Gentry Novels...Mmmmmmm! I would make it so easy for him to be green! A yummy fertility godling!
9)
Alcuin nó Delaunay
from Kushiel's Dart! The master's #1 student, fair of skin and hair and a sweet young man...definately a uke! *pounce*
10)
Cassiline Joscelin Verreuil
from Jacqueline Carey's Kushiel series. Blond, beautiful...solemn and celibate...from a brotherhood of warriors. *swoon*
>>>This was very hard because there are a ton of em...and I dug these up at lunchtime! LOL<<<