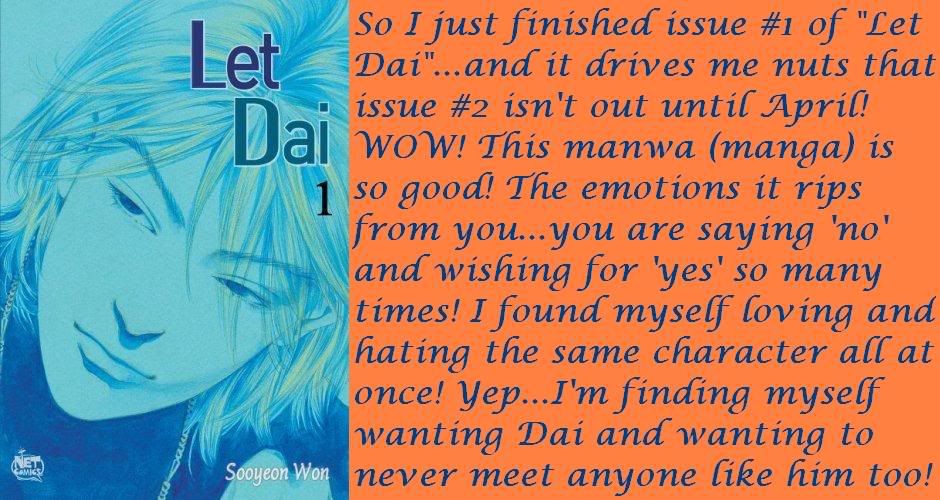 2 SYNOPSIS BEHIND THE CUT...
Let Dai (Manga) 1 description:
An unparalleled poetic account of an ordinary boy and a charismatic boy, Let Dai is a sadly beautiful love sonata of youths in agony; it touches the hearts of many readers of today with the reminiscences of anxiety, gloom, and gaiety of youth. Jaehee is an ordinary high schooler who enjoys buying chocolate and roses for his girlfriend on Valentine's Day, at least until he is dragged into a bad gang beating while trying to save a girl. That day, unknown to his innermost being, a kiss from the gang's wild and devilish boss Dai approaches him as his undeniable fate: Jaehee finds himself drawn to Dai no matter how much he wants to deny it. In the meantime, Jaehee's girlfriend Eunhyung gets assaulted by the gangsters and her older sister Yooneun's love for Jaehee grows secretly as she bravely fights the evil.
****************************************
****************************************
****************************************
*****
Is this desire for freedom the very thing that entrapped us.
Let Dai is a tragic tale of forbidden love and unforgivable betrayal. Set in a soulless neo-Seoul ruled by young punks and pleasure seekers, an amoral teenager named Dai is the living embodiment of the city's beauty and cruelty. As the leader of the vicious Furies gang, Dai seduces everyone who lays eyes on him, only to blind them to his own barbaric nature. When an honest schoolboy named Jaehee rescues a beautiful girl from being mugged by the Furies, he can't possibly realize how this brief encounter will plunge him into a downward spiral of unbridled passion and unfathomable pain. From his brutal gang initiation to an unspeakable act committed against his girlfriend, Jaehee wavers uncomfortably between revulsion and fascination. And in Dai he finds a tender, caring friend one moment and a heartless sociopath the next, awakening strange and unhealthy desires in Jaehee that he could never before have imagined.