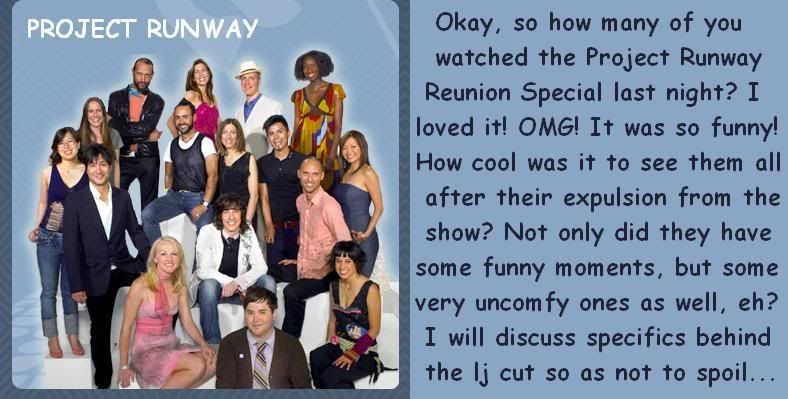 First, let me say that Daniel V looked just a handsome as ever...maybe moreso!
Let me just make my remarks by breaking them down by each designer...
Andrae - LMAO! What a character! He's like a cartoon character...I just love him! Hahahaha...I had never noticed him falling out the doors and the skipping! His expressions are so far out there...you have to laugh! I also didn't realize how long his crying breakdown really lasted...wow! Andrae is fun, IMHO!
Chloe - She's a good designer...not so entertaining really. That was pretty rough when they reshowed the 3 designers saying they would leave her out of the final 3! Even so, I think Daniel V's reason was the least hurtful and made the most sense.
Daniel F - While he was on the show, I kind of liked him...saw him as the underdog because of him being put of first in Season One. Last night he just seemed very weird to me...very weird! His seething questioning of Santino (Not that Santino isn't and ass...it's just the dramatic, hissing way he questioned him) and his teary-eyed 'I love you, Heidi' to Heidi Klum!
Daniel V - They didn't give Dan enough camera time as far as I'm concerned! LOL! He again melted my heart with his concern for Marla as he reached back to hold her hand and spoke in her defense! IMHO, if he doesn't win, the show is fixed!!! *grin*
Diana - Still shy...I'm still feeling sorry for her for some reason!
Emmett - Ol Emm was looking pretty sharp last night. He was, as always, kinda quiet. He was very gracious accepting Andrae's apology (Andrae was classy to offer it too!).
Guadalupe - Ummmmmm...WTF?!! She's like an insane little sprite on crack! LOL!! Did anyone understand what the hell she was saying?!
Heidi - the designer, not Heidi Klum. Ummmm...she was booted in the beginning. She came off kinda odd and kinda dumb!
John - Not much of an impression of him. I remember feeling bad when he was let go. Last night he didn't say or do much.
Kara - I like Kara. She seemed fun and sweet. Last night she spoke frankly without being hurtful.
Kirsten - Looked great last night and I see her as a classy lady. I don't think she deserved to be booted when she was.
Marla - Awwwwww...Marla. Such a sweet woman. I hated seeing her hurt by the comments from the other designers. Her designs were just coming from someone of an older generation.
Nick - Always interesting. I think he deserves to be in the final 3 instead of Santino. Nick is a very talented designer and a good guy. It was big of him to say positive things about Santino, IMO.
Raymundo - LOL! Was he trying out for his own series last night? Don't get me wrong, I kinda like Raymundo...but wow, was he gabby last night! He also has the distinction of making Andrae look butch! *smile*
Santino - His imitations of Tim are his saving grace! No matter what he says, he has to know how cutting and hurtful his words are! I think that if you have talent, you don't have to play cruel games with people's emotions! Honestly, I don't know how the judges can justify his presence in the final 3! They keep saying 'he is creative', 'he has vision' and 'he takes risks'...give me a break! So many of his designs were just outrageous! Looking at his lingerie line again last night just pissed me off...he should have gone home for that mess!!
Zulema - Nasty, Nasty, Nasty!!! She should have gone home for that chopped up golden 'dress' that left her model's whole ass hanging out! I think she also took Nick's model to shake him up (I didn't buy her excuses last night at all).
Watching the part where they showed the designers the 'private' comments made by the other designers was like watching a train wreck! It was interesting in a morbid way, but so hurtful and cruel! Not sure they should be able to do something like that!
LOL...okay...I've really rambled on here! I can't wait til the finale shows!!