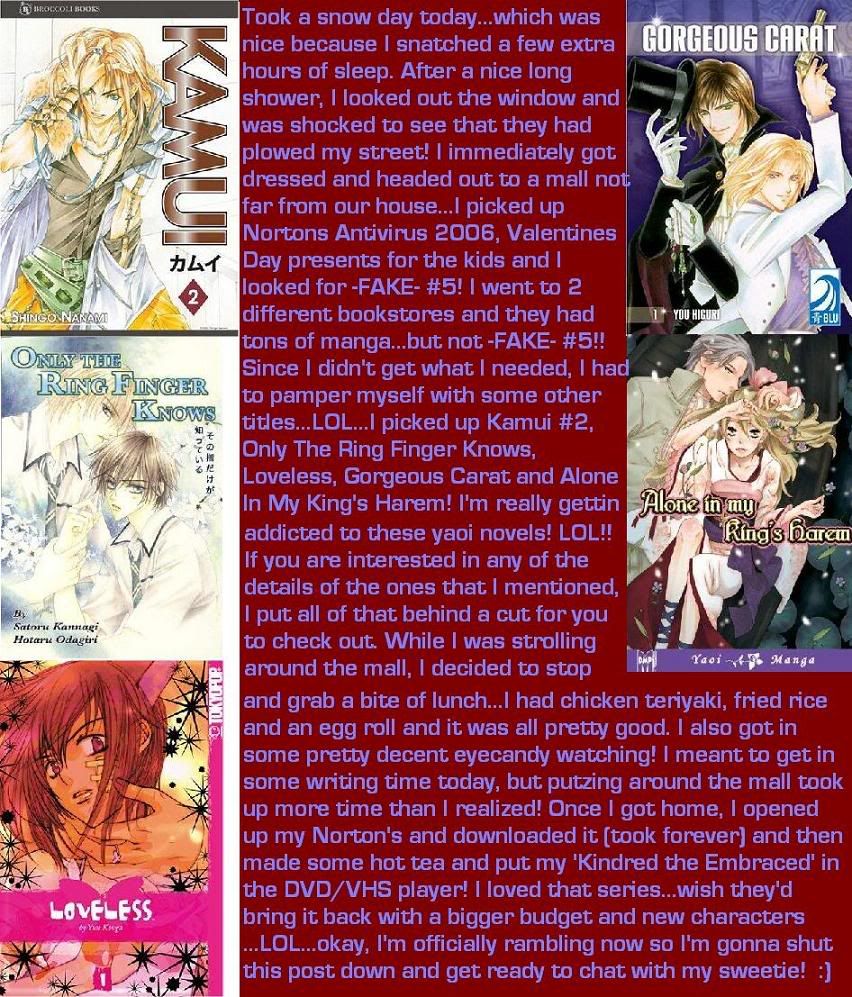 Loveless
Book Description
The mystery behind the death of his older brother was just the beginning...When 12-year-old Ritsuka discovers a posthumous message from his brother indicating he was murdered, he becomes involved in a shadowy world of spell battles and secret names. Together with the mysterious Soubi, the search to find Seimei's killer and uncover the truth begins! But in a world where mere words have unbelievable power, how can you find true friendship and happiness when your very name is Loveless?
----------------------------------------
------
Kamui 2
From Publishers Weekly
Atsuma is a teenage hero infused with the mystical properties of an ancient sword, a gift that comes in handy during his quest to reclaim the stolen sacred spirit of his village. Falling in with NOA, a group of similarly empowered youths, Atsuma is immersed in a volatile live fire-training exercise that confronts him with a powerful evil spirit, a conflict won by his potent spell casting. Smitten by the dashing newcomer, NOA cadet Anzu pursues Atsuma and ends up as his date to the organization's annual ball, an event that will culminate in a plan to strike down Atsuma when he least expects treachery. The second volume in this shoujo series is a fairly fast-paced hybrid of teen romance and X-Men histrionics supplemented with highly stylized artwork that gene-splices the pretty figures common in girls' manga with the trappings of many other entries in the sci-fi/action genre. Setting and backstory are both given short shrift. For a novice reader it could be a frustrating ride since its success is dependant upon having read the previous installment. There is a sparse recap at the beginning, but it is difficult to follow the material based on such cursory notes. (Feb.)
Copyright © Reed Business Information, a division of Reed Elsevier Inc. All rights reserved.
Book Description
When Atsuma defeats an atanan and saves NOA cadet Anzu, he gains both unwanted fame and a follower. Despite an unwillingness to respond to Anzu's admiration, Atsuma relents and takes her to NOA's annual ball. But there are some who see Anzu as a way to strike Atsuma where he is most weak. With NOA's annual ball approaching, their plan could unleash a devastating reaction.
----------------------------------------
-------
Gorgeous Carat
Book Description
Welcome to turn-of-the-century Paris! Ball gowns swirl, champagne corks pop, and precious jewels sparkle all around the city--and in the amethyst eyes of one particular young man...Meet Florian, the only son of an impoverished noble family. When his family's 120-carat Flame of Mughal goes missing, Florian teams up with the stunning, mysterious Ray Balzac Courland to track down the dazzling gem. But the trail of clues leads the duo to an abandoned castle--and a deadly secret! A boys' love action-romance set on magnificent streets of gay Paree, Gorgeous Carat follows the swashbuckling adventures of Ray and Florian as they battle crime lords, backstabbing family members, and a possible attraction to each other.
----------------------------------------
-----------------
Only the Ring Finger Knows
Book Description
At Wataru Fujii's high school, it's all the rage to wear paired rings with the girl you love. Wataru wears one though he is single, and one day inadvertently discovers that his ring pairs up with that of tall, handsome, and smart Yuichi Kazuki, the senior classman idolized by the entire school. Though Kazuki has a reputation for being kind to all, when dealing with Wataru, he is strangely harsh. Their paired rings somehow draw them together and the two alternately clash and attract, as they must sort out their budding feelings for each other.
----------------------------------------
--------------------
Alone in My King's Harem
Book Description
In the title story, a concubine falls head over heels for his king. But what happens when the king's ambitions blind him to that love? In another story, troubled circus acrobat Hibana finds comfort in the arms of another circus performer. But there's more twists to the story than Hibana's flips through the air. In the next story, a loving servant of a prince lets himself be put under a magic spell in order to spend one cherished night with him. The following yarn is about Canary, a very unusual boy who is owned by an old woman who exploits his talents, and the young stranger who meets him and teaches him about love. The manga concludes with two stories of students Okabe and Hidaka, and their exploration of their feelings for each other.