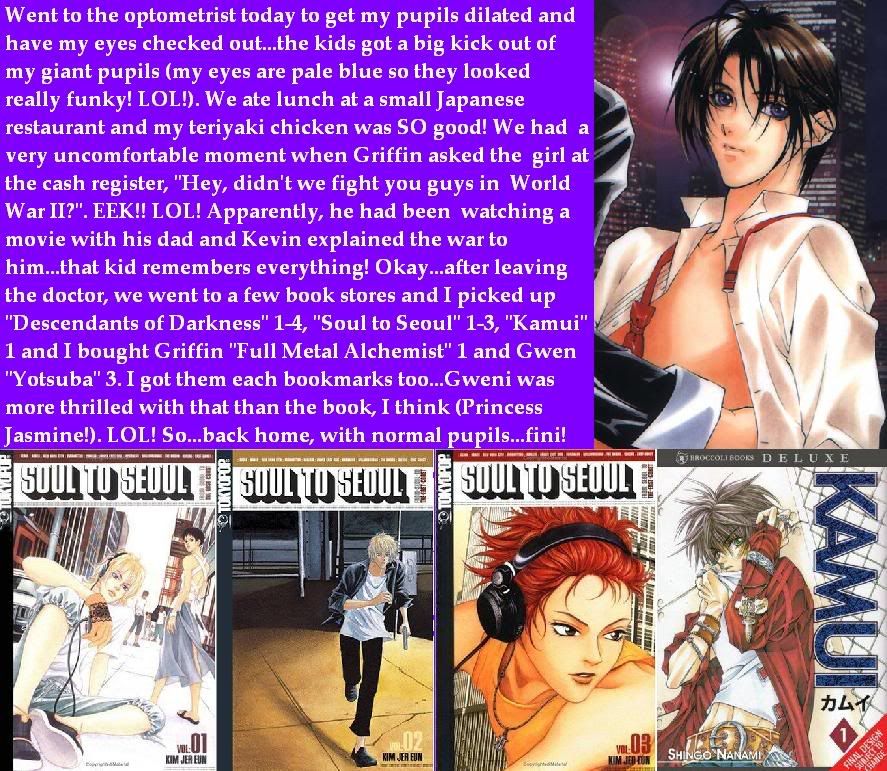 Incase you are interested...
About "KAMUI" -
Spirits known as kamui are thrown into chaos when the sacred spirit
Okikurumi is taken from Atsuma's village, and the imbalance threatens to destroy Earth. Infused with the spirit of an ancient sword, Atsuma must leave his village to reclaim Okikurumi.
He encounters NOA, an organization of youths who wield the power of the kamui, and who may hold the key to Okikurumi. Atsuma is recruited into NOA by Sumire, a young woman with an empty soul who yearns for a miracle. Atsuma and his new companions must work together to find Okikurumi before the world is destroyed.
****************************************
**********
About "SOUL TO SEOUL" -
Soul to Seoul is a korean comic (manwha) set in NYC. The story revolves around a half-Korean, half-white teenager named Kai, who is a pretty boy and player in school. And he is being stalked by Sunil, a Korean foreign exchange student who followed him all the way to Harlem, due to a rather whimsical reason. Soon enough, we are introduced to Kai's best friend, a half-Korean, half-black high school dropout named Spike, who lives in Harlem. In addition, we meet Kai's family members, who are are all full-blooded Koreans, and thereby deepening the mystery of Kai's half-blooded heritage.
Kim Jea Eun is an expert at drawing up pretty boys; the cover of the manwha exemplifies the author's style of artwork. And female readers will find this style very pleasing to look at. The scenes are set in Manhattan, and the backgrounds are very detailed. The characters are into hip-hop, and wear baggy clothes and earrings, etc. The surprising thing is that Kai is only 17, and most of the characters are that age or younger, because they certainly act more mature in a boys-in-the-hood fashion.
..