LOL...today I was out for the day with mom, sis and my niece and nephew. We went to Griffin's Tae Kwon Doe class first and watched...he's incredible!!
After the Tae Kwon Doe, we headed out to eat...we had lunch at a local Chinese restaurant...and I found to my later woe, that both of the kids had been to breakfast at Burger King and received a Star Wars Mace Windu figure...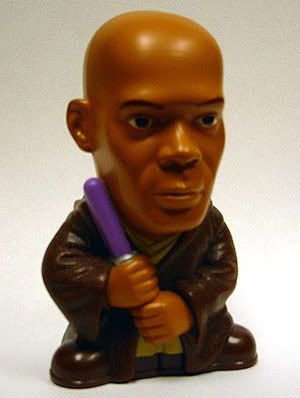 ...does everyone remember 'The Magic Eightball'? Well, this figure works like one of them...you shake him up and look under his feet for your answer!
Well...these lil monsters started their questions during lunch..."Will Uncle Mark buy me _______ for Christmas?!" entertained them through lunch.
Then, as we headed to a local mall for the kids to attend a Build-a-Bear Birthday Party, the kids changed their questions..."Will Uncle Mark ever get married?"...this one was asked repeatedly to a howl of laughter as they read the answers...'I Agree', 'Not Possible' 'Use the Force', etc! Then the questions became..."Will Uncle Mark date again?"...and finally, Griffin asks, "Will Uncle Mark ever date a GIRRRRRRRRRL?"...LMAO!! I'm guessing that mom knows I'm a homo since she said, "Okay, time to ask questions about someone else for awhile!"...*snicker*...Sis and I got a big laugh from it!
BTW, Mom's suggestion only set their sights on her! LOL!! "Will Maw Maw ever get married again?"...Mom answer for them...a resounding "NO WAY!"...*GRIN*
..