Okay...as silly as it seems, I hate doing bills every month...MORE than going to the dentist! Not sure why, but I just hate doing them!
So...I did my bills late night and the first envelope I open is from Wolf Haven...announcing the death of another of my sponsored wolves, Kiowa...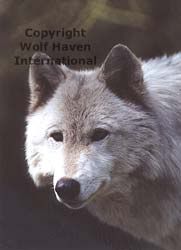 this pic doesn't do her justice...I actually saw Kiowa when I went to Seattle a few years back...she was so pretty and a lively ol girl (she passed at 17 yrs of age).
I opene a few more...and then I open a bill from a charge card that I zeroed out 7 years ago and haven't used since! There was a $512.00 charge to Sears.com on there! I haven't used that card and I don't shop online!! I called the charge card company and they are closing the card and sending me an affadavit to fill out...I have to return this bill and any others received on this card. This charge was made in August and I later remembered that my car was broken into in July...I'm guessing that I must have had something in there with the charge number on it...all I can think of! I won't be responsible for any of the bills, but damn am I pissed off!
Sorry...Rant over!