So, my sis and my brother-in-law, Kevin, just returned yesterday from a vacation in Maine. They stopped in this little country store to look around and my brother-in-law felt something on the back of his head. He said, "What the Hell?" and run his hand over the back of his head and a bat flew off of it!
Sis says it flew over and got snagged in a blanket and the lady in the store asked my bro-in-law if he would mind taking it outside.
I'm surprised they didn't bring it home to add to their Ark of pets! LOL! Sis tells me that they both thought it was cute!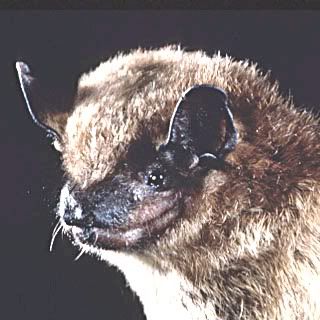 Anyhoo...now, I have to tell ya...you have to know my bro-in-law...he's very dry and matter-of-fact. The closest I can come is to say that he talks like Keanu Reeves...
Sooooooo...he takes the blanket outside and shakes this lil bat loose...and it flies over and lands on this young lady's backpack. She didn't know it was there.
Sis says that her and the store lady were laughing so hard at my brother-in-law that they were holding their sides.
He steps over and says, "Excuse me, Miss, but you have a bat on your back"...LOL! I can just see him doing that in his Robocop voice. So...apparently, the lady begins to scream and do a little dance...and bro-in-law lifts it off of her and releases it into the air. My sis says the woman hugged him and thanked him "for saving her life!" LMAO!
..