I took a half of a day off of work today to go out with my sis and the kids for awhile. Mom went along too.
Our first stop was an 'all you can eat' pizzaria...the bar had several types of pizza, salads, several types of pastas and sauces and about 5 different desserts...also an arcade where there are lots of games that the kids like to play.
Griffin used all his tokens in the claw machines, but Gwen used hers in the candy and plastic toy machines...LOL...loaded up her little pocketbook!
Griffin was mad because Gwen had a bunch of stuff and he wasted all his money...so (The kids sat on either side of me and my mom and sis sit across from us)...Griff tells Gwen..."Only people with NARDS on this side! You go sit over there!"...Gweni replies, "I will KICK them!". Ummmmmmm...EEP! Their mom had the 'That's inappropriate' speech ready!
So...next, we headed for Wal Mart! YAY! I bought Griff a cool little robot and Gwen a winged My Lil Pony (wearing a helmet and goggles)...I also bought then each a DVD, 'Bratz Girlz' for Gwen and a 'Three Stooges' one for Griff.
I also got my film from Dutch Wonderland developed...LOL...one pic really pissed little Gwen off! She wasn't keen to take it...and she was even less keen to see it! The pic was one of those scenes that you put your head through for a souvenir photo...this one was a Farm scene with animals...the one at the bottom was a pig and Gwen was NOT happy to put her head on the pig! When she saw the pic, she crumpled it, but her mom got it away...then she stomped and said, "Give that back! I'm going to tear it up!". (She also threatened later that, when she got home, she was lining up ALL of her LIL Ponies and Attacking all the boys...including ME! She added, 'It's gonna be a BIG WAR!'!! LOL
GWEN ON A BENCH, HAPPY THAT GRIFF IS IN THE BATHROOM...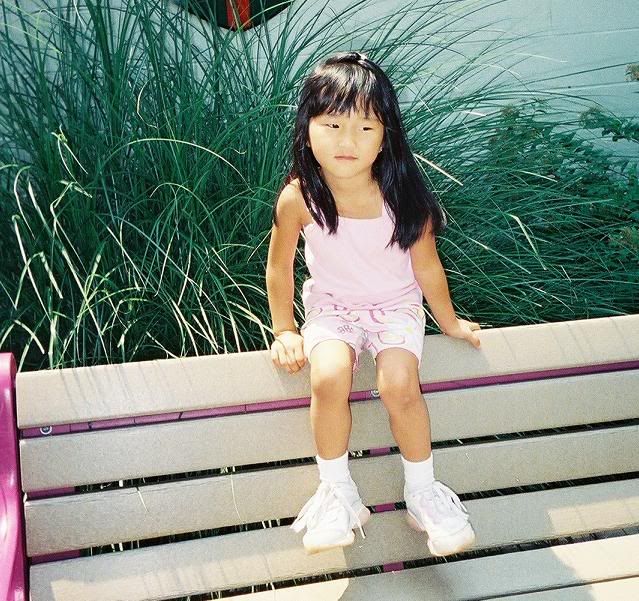 GRIFF AND GWEN TOGETHER...AND SMILING!
FUN IN THE WATER PARK...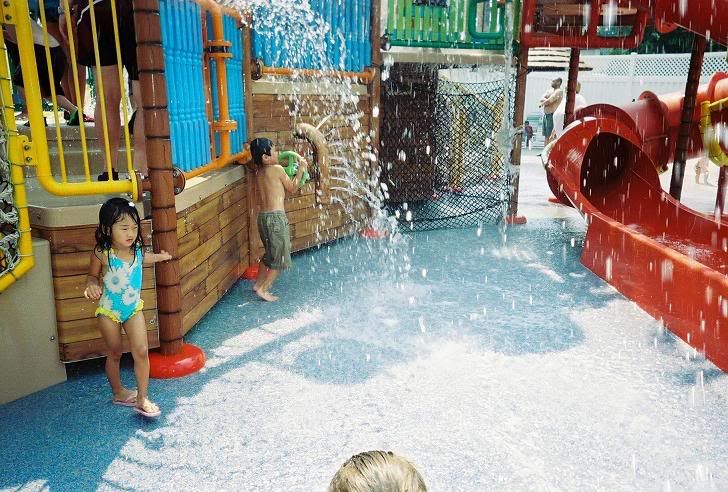 LOL...THE PIC THAT PISSED LIL GWENI OFF SO BAD...(THIS HER WITH HER MOM, DAD AND GRIFF)...
...