Last night, I had the strangest dream! I dreamt that my LJ friend, Mickey, called and said that he was going to be in Baltimore and that we should meet...and would I like to go to some convention. I said that I'd love to meet!
So...I get a phone call later and it's Mickey and he said that he didn't want to go to the convention, but would I like to go to the movies...I was relieved about not going to the convention (not sure why or what kind of convention) and really looking forward to going to the movies!
Okay...so I pull up in front of the hotel where Mickey is staying and he comes out with his sister...both are dressed like they are going to a wedding or something (I'm wearing a baseball jersey)...Mickey's sister looks like Holly Combs from 'Charmed'.
Suddenly, I realize that I'm in the passenger seat and someone else is driving...I get out and let Mickey and his sis into the back and then introduce them to my friend...BRAD PITT!!!!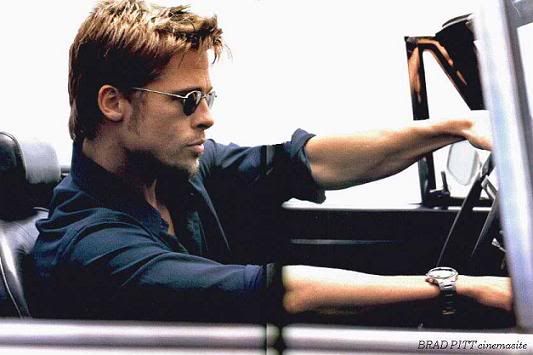 I say..."Mickey, this is my friend, Brad!"...And Brad turns and gives a big ol pretty white smile! LOL!
Mickey shakes his hand and says, "If your hair was styled differently, you'd look like Brad Pitt!"
Brad and I laugh...knowing he IS Brad Pitt!
Then I say, "This is Mickey's sister, Ursula!"...and she smiles.
Okay...Now we are driving along and Brad reaches over and messes my hair up, saying he was styling it to match his...I laugh and say, "Hey, leave my hair alone! I'M not the one who looks like Brad Pitt!"
Mickey throws in..."That's for sure!"
Then Brad grins and says, "Oh...I think he's kinda cute in a bizarre way!"...and reaches over and pinches my nipple!
RINNNNNNNNNNNNNNNNNG! RINNNNNNNNNNNNNNNG! RINNNNNNNNNNNNNG!!!
I HATE MY ALARM CLOCK!!!!!!!!!!!!!!!!!!! :(
...