James Marsters, best known as the blond, British vampire Spike on Buffy the Vampire Slayer and Angel, will be making a guest appearance in the upcoming season of Smallville, the WB network announced. At the Television Critics Press tour in Beverly Hills, Calif., Smallville star Tom Welling announced that Marsters would be playing a character from the original DC comic-book series. "Joining us this season will be another famous character from Superman lore, Milton Fine, also known as Brainiac," Welling told critics. "Brainiac, the ultimate villain, will be played by someone you are very familiar with, James Marsters of Angel, but this time without the British accent and the blond hair, which I'm kind of sad about, but we'll see."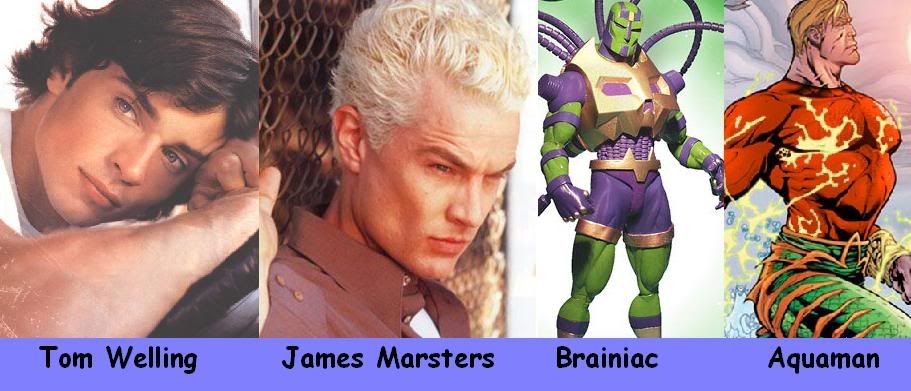 In an interview with SCI FI Wire, executive producer Al Gough said that he and the other writers had been wanting to introduce the character for a while, and always had Marsters in mind for the role. "We always thought he was fantastic in Buffy and then in Angel, and he just felt like he'd be a good fit for this character," he said. "He was always sort of the first guy we wanted, and we met with him and told him the arc for what we wanted for Milton Fine as Brainiac."
Brainiac will be introduced as a college professor who tries to turn Clark against humanity, according to Gough. "He's a wonderful actor beyond being Spike, so I think he'll bring all of that to the role," he said. "We've talked about it, and what's nice is, he's going to be one of Clark's college professors. ... It's more of the grand seduction of Clark Kent rather than someone coming in and them throwing each other around. And I think James is really up for the challenge."
But Brainiac isn't the only character from the DC Comics universe who will be making an appearance in Smallville. Welling also announced the introduction of Aquaman, who will have a relationship with Lois Lane, played by Erica Durance. As an aside, Welling noted that Durance is terrified of the water, which "will be interesting on set." So far, there has been no announcement of who will be playing the character.
Gough admitted that he watches the HBO series Entourage, in which the main character is up for a role in a James Cameron-directed adaptation of Aquaman, but the producers of Smallville had already planned to bring on the character before the Entourage storyline aired. "We actually had planned to do [it], because there are only so many DC comics that they're not developing as movies that we've been allowed to [do]," Gough said. "We wanted Wonder Woman, we couldn't get her. We wanted Batman, we couldn't get him. So we got The Flash. And then we said, 'How about Aquaman?' He's a much maligned character. So for our show, we thought he's a great character to teach Clark, basically, to think globally. Our take on Aquaman at this point is that he's like an environmental activist, who teaches Clark that there's more to life than just Smallville and college and things like that."
The final Smallville-related announcement to come out of The WB's presentation was a future guest appearance by Tom Wopat, who co-starred with Smallville's John Schneider in 1980s television series The Dukes of Hazzard. Wopat will play a senator with undisclosed ties to Schneider's character. Smallville returns for a fifth season in the fall.
..