So...I head out the door to go to work this morning...it's pouring rain...and my car window is busted.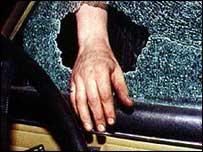 The contents of my glove compartment and center compartment were thrown everywhere, half of my steering column is ripped off, there's food and utensils in there and drug paraphenalia...the police officer said it looked like the work of juveniles wanting to take a joy ride. Rotten fuckers!
So...my car is kinda old anyway. I'm thinking that I need to get a new car...I hate all of this! UGH!!
Well...this is my day so day!!
..