I started my 4th of July right…a shower, some apple & cinnamon oatmeal and my beautiful CyberHubby online! Jase and I were able to chat for a few hours before I had to run and change and be off!
My younger sis drove my mom and my brother…and I drove with my bro-in-law and the kids.
My older niece had us all down for a cookout and to watch the fireworks. She has one of those newly renovated townhomes in Canton, an up and coming enclave of young professionals and one of Baltimore's historic neighborhoods (it has a basement, 3 floors and a rooftop deck).
Also at the cookout, were one of my niece's gal pals and the twink boy (he was very nice and still flirty, but I just wasn't interested…y'know? I talked and joked with him! We even walked my niece's rotties.) LOL!!
Anyhoo…got some sun up on the patio while we ate…and there was so much food, we could have fed the neighborhood! LOL! My niece said that she needs to have some more parties this week to get rid of the food!
I played with the kids and the dogs a lot…the funniest thing…the girl rottweiler, Shaka, was in a frenzy herding the kids! LMAO…she followed them everywhere and nudged them and circled them! Gwen was none to happy about it…Griffin, I think, enjoyed the attention! The boy rottie, Danny, only cared about playing ball!
Once it got dark, we all went back up to the rooftop deck and talked. There was a nice cool breeze…we had some sparklers for the kids, which thrilled them to no end. LOL!
The view from the rooftop deck was incredible! We could see forever in all directions…so many church steeples and onion domes and other decks!
It all reminded me of a few lines from the Chimney Sweep song in 'Mary Poppins'…
"Up where the smoke is
All billered and curled
'Tween pavement and stars
Is the chimney sweep world
When there's 'ardly no day
Nor 'ardly no night
There's things 'alf in shadow
And 'alf way in light
On the roof tops of London
Coo, what a sight!"
When night fell, it was magical! The lights of the city center in the distance, the lights from the harbor, the lights from the other decks…and then the fireworks!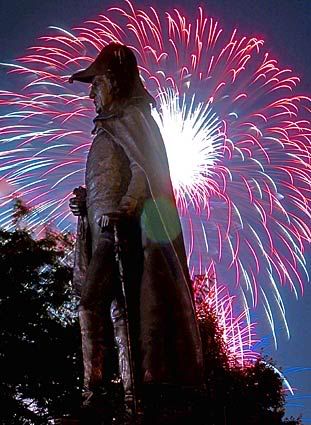 The main act was the fireworks from the Inner Harbor, and they were beautiful, but also, simultaneously, we could see fireworks displays from several suburbs in the far distances!!
The only downside to it all was having to get up early to go to work this morning! LOL!
...