Yesterday, my sis and I took my niece, Gwen, for her day out! She pointed out to us that Griffin had had 2 days out with us and she hadn't had any yet! LOL! She keeps track of everything! This happened because we took Griff to see 'Revenge of the Sith' and then 'Batman Begins', neither of which Gweni could see! So we were taking her to see "Madagascar".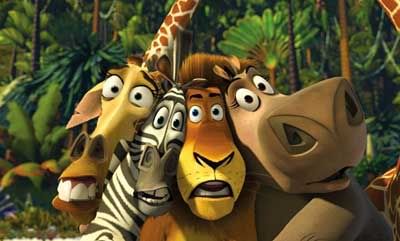 Anyhoo, we went and had lunch at a Chinese restaurant and then bought Gwen her 'Snowcaps' and went in to see the movie. The theatre was pretty crowded, but not too bad…lots of little ones. About ¾ of the way through the movie, sis noticed that Gwen was crying (she's a silent crier)…when asked what was wrong, she just said that she "wanted to leave…NOW!".
We left and finally found out that she was upset that all the little animals were being eaten! Well…this is true…there was a scene where these cute little animals were being eaten by snakes, predator birds and finally…an adorable duckling gets devoured by a huge crocodile! A few adults found this amusing, but I didn't hear any children laughing! I actually found 'Madagascar' pretty boring (The only thing that amused me was 100 or so lemurs exclaiming "Oy Vey!").
When we left the theatre, Gwen said, "Now, let's go to the 'Hello Kitty' store!". So we took her to the Hello Kitty store and Uncle Mark told her to pick out whatever she wanted! She was prancing around with her hand on her hip and she said, "Well…you KNOW…they DO have the very BEST bubble gum!"…so she got several packs of gum, a giant Hello Kitty pen, a Hello Kitty Sticker book, some Hello Kitty barrettes and, for her brother, a Penguin clipboard with paper and pen!
Next was an ice cream cone…and then home!
LOL…Next weekend we are doing one of her favorite things…driving to Ellicott City to look at antiques and then going to the Bagel Shoppe for Bagels and tea! *grin*
..