Spent the day at the mall with mom, sis, bro-in-law and the kids! We had a lot of fun! Stuffed ourselves at the eatery first and then walked around the mall shopping for each of us. LOL...I really got my excersize...Gwen rode on my shoulders and Griffing held my hand (sometimes hanging so I could pull him so he 'waterskied'...LOL). Mom and sis bought blouses and pocketbooks, Kevin (bro-in-law) got some shoes from footlocker I bought myself a 'Star Wars Unleashed:Tusken Raider' and the first Season of "Dead Zone" (I'm hoping it's good...never watched it)...and I bought the kids stuff : A Disney Princess Phone for Gwen and a Human Torch Playset for Griffin!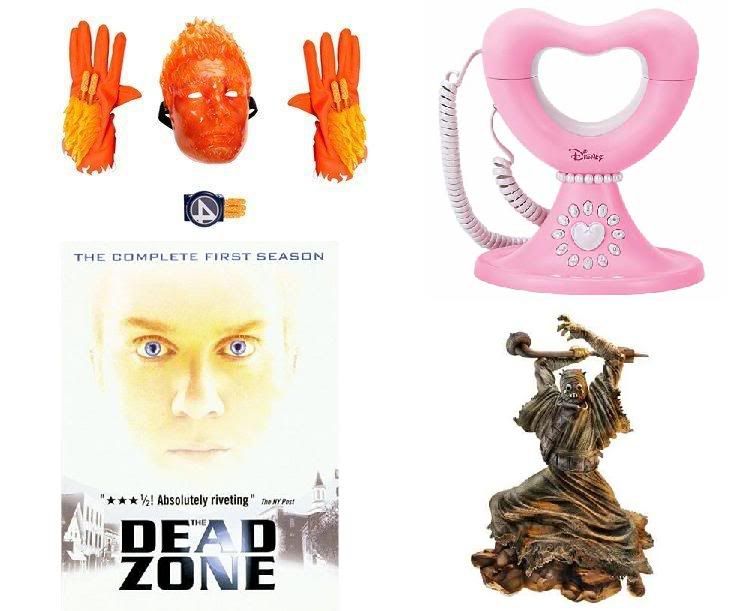 LMAO...both kids wanted the toys opened immediately...so I did! Gwen carried the phone around (resting it on my head actually...LOL) and had conversations with everyone not with us...and Griffin wore his Human Torch mask (VERY freaky looking) and gloves and exclaimed "Flame On!" as we walked! Kevin was emabarassed that he yelled 'Flame On'! *Snicker*...the lil monster also announced to us all the people he was melting! EEP!!
Before we left, we stopped and got something to drink and some ice cream sundaes (It's HOT today)and talked a bit.
Once I arrived home, I had to go to my neighbor's house and let her dog out (I'm doggie-sitting this weekend)...I played with Abby, who is a pointer/beagle mix, and fed her, gave her fresh water, cleaned up her 'accidents', etc. She is such a sweet dog...I hate when I have to leave! I'm spending plenty of time with her and giving her tons of treats...LOL! I think my neighbor will have to restock all the doggie treats when she returns!!
So...finally, here I am...resting before tomorrow when I take Gwen to see 'Madagascar' and get a bite to eat! She's keeping track...I took Griffin to see "Revenge of the Sith" and "Batman Begins"...neither she could see...so I owe her two before "Fantastic Four" comes out...that's another Griff movie! :)
..