Got up early and saw Griffin march in the Little League opening day parade with his team. LOL...he was worried beforehand that he had to play an instrument if he marched in the parade...when the coach told him that the ballplayers don't play instruments, he was ready to go! He got to hold the end of the team banner...LOL...when he passed us, he yelled, "HEY UNCLE MARK! CHECK IT OUT!!". Then we went up to the Middle School where the Ceremony was held...it was really nice (some of the little ones were dancing to the National Anthem...*snicker*). After the ceremony, we headed out to pick up my Aunt and take her shopping. So...I bought mom tons of Mothers Day gifts and bought myself the following...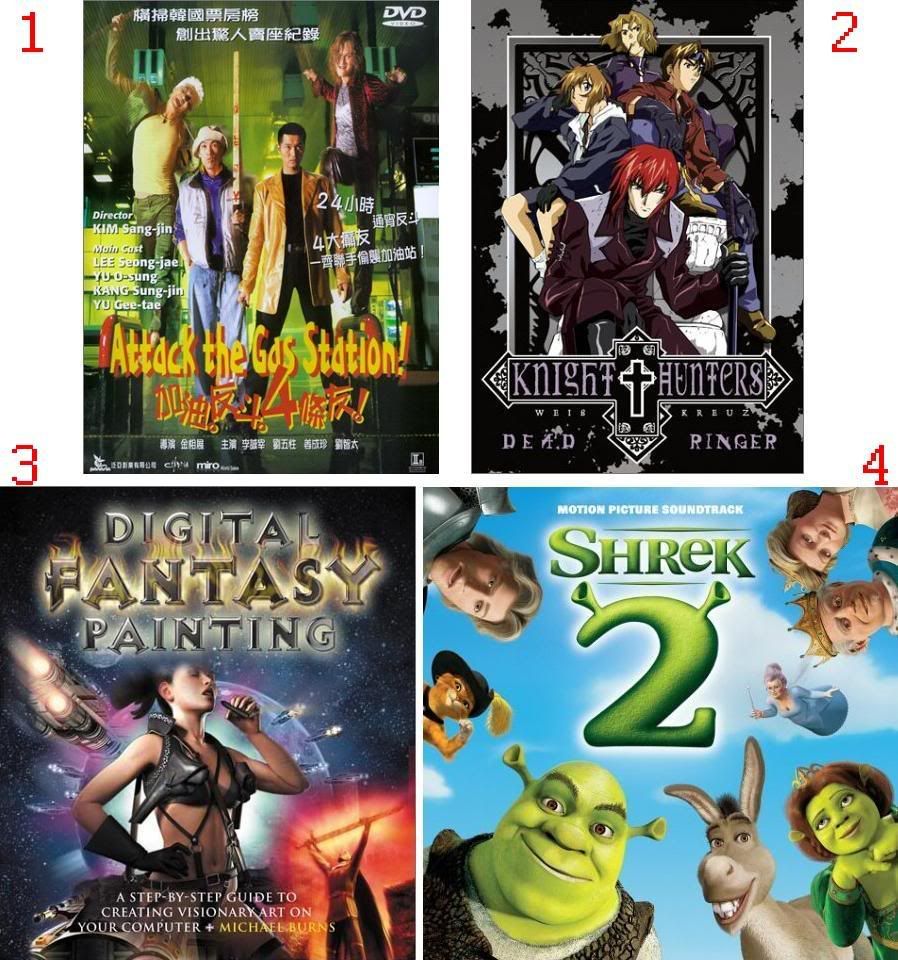 1- Wacked hard-fisted action with chunks of laughs as four Korean youths take over a gas station holding the manager and his staff hostage, then give customers more gas than they ask for and take the money for it. Things escalate when the four guys don't pay for a whole lot of Chinese food they order, and when they beat up some low-level gang flunkies of a local mob.
What raises this very far above a dupey film is the ultra-smart script. The four guys' pasts are revealed; each has had great disappointment in his past resulting in his current urge to rant and destroy. Music, self-esteem, and parents are the causes.
The ending sequence of mobsters, delivery boys, the youths, the gas station staff, and the cops all converging has to be seen to be believed. Along the way there is enough humor to keep things moving fast and furious. It's great that this film is very far off from taking itself seriously like most dumb American action movies do. This is a superior action film for those who love fast-moving flicks that give you a one-two punch where it counts--in whatever connects your head to your adrenalin and also your laugh muscles.
Way cool.
2- Aya, Ken, Yohiji, and Omi are florists by day, and silent killers in a war against crime and evil at night. Classic bishonen (beautiful boys) our heros have dark pasts, haunting memories, and a tendency to tragic relationships, sprinkled with light banter and serious mayhem. The people they are fighting are archetypically evil - gambling on death fights, providing women for violence, and poisoning health drinks. The kind of folks you wouldn't mind dead.
I wouldn't call the episodes repetitious, but they do follow a form - using interconnections between the characters personal lives and the ongoing assassination to build a whole story. This allows for considerable variation and one has to credit the writers with making an effort to avoid the overly hackneyed. It quickly becomes obvious that the violence isn't the plot, but the backdrop for the emotional development of the characters.
The artwork is to about a 2001 standard. Better than many efforts, but is quickly eclipsed by what is being done at present. Sometimes it is hard to remember that work that was great when it came out can look very tame a few years later. Nothing wrong here, but don't expect fine details or complex animation. The dubbed version works very well, although the actors have trouble with some common Japanese names. This is one of those occasions where the actors reworked the Japanese script and managed to avoid the awkwardness that often plagues word-for-word translations.\
A high level of action, lots of emotional content, and characters that are easy to look at, this is one of the better examples of shojo (for women) anime. One that manages to hold interest across the gender barrier as well. Mainstream it is, but good mainstream.
3- Book Description
There's a powerful fascination in creating fantasy characters and their bewitching environs on the computer screen. Written for anyone who works- or plays-in 3D graphics, Digital Fantasy Painting supplies a treasury of tested techniques that can be applied to any illustration software package. This extraordinary resource is packed with dozens of step-by-step exercises for designing photo-realistic 3D creatures and their strange worlds. Readers will see how to produce simple human skin and bone textures, as well as an entire host of ethereal creatures such as ghosts, spirits, robots, and cyborgs. They'll discover how to design realistic atmospheric effects as well as capture the surreal world of nightmares, futurescapes, and planetscapes. Computer artists will also find tested techniques for modeling, surfacing, staging, and lighting as well as creating water, glass, and other true-to-life motion effects. Digital Fantasy Painting features a dazzling showcase of the very best fantasy artwork, complete with dozens of tips, examples, and shortcuts that help put the creative process on the fast track. Plus, a special section outlines the myriad software illustration packages available on the market today. For graphic designers, fans of fantasy and science fiction art, and anyone else who wants to try their hand at creating incredible creatures on their computer screen, here is a definitive one-stop resource.
4- Ummm...the Shrek 2 Soundtrack
I also bought the latest issue of Animerica and a fuzzy, lime green neck pillow! LOL!
Sis had taken Griffin to get his "playing card" pic taken...when I get mine, I'll scan it!
So...finally home...eating Chinese food and waiting for my CyberHubby!
...