Boy did I have a busy weekend!
Saturday, I spent the day with my friend, Carole, because Sunday was her birthday.
I woke early and we drove up to the Maryland/Pennsylvania state line to a town called Maryland Line, Md. Carole is looking for a dog and we went to and animal rescue there. She had a few dogs that she wanted to see…one inparticular. When we arrived, it went pretty quick because she had already filled out the paperwork and faxed it to them. The lady went and got the dog that Carole was interested in…a 6 month old female Bluetick Coonhound/Beagle mix named "Dulcie". They put her on the leash for us to walk her around the grounds, but she was very hard to walk…she pulled back and refused to move unless you pulled her…to me she looked like a dog who had been abused…she kept her head low and flat, her tail tucked and she looked up from her downward tilted head. She was so cute and a sweetheart.
Next, the lady took Carole and I down through "The Yard", a huge enclosure where most of the dogs ran free (there were also pens off to each side). It was the weirdest thing you ever saw…all these dogs ran past Carole and the Lady and swarmed me! I was laughing so hard and trying to pet each and every one of them…and speak to each of them. LOL…they were jumping on me and pushing against me and gently grabbing my arms…an Irish Setter was rubbing against my legs and even went under me and came out between my legs (OMG…if I had fallen!)…I think Carole was a little jealous; she snipped, "Come on. Just push through them or we'll never get done!"…LOL! Anyhoo, we were headed for another building in the center of 'The Yard' where there were a few others that Carole wanted to look at. The dogs all walked behind me and I noticed this little beagle that was SO fat (he was as wide as he was tall) and he was old (face completely white)…he was trotting along next to me trying so hard to keep up and he was looking me right in the face! I HAD to stop and make over him…LOL…of course Carole sighed and then the lady told me that he wasn't adoptable…he was very old and he had cancer. OMG! Talk about break my heart! OH…and his name was…Hercules! I honestly wanted to hug him and never let go!
So…we went inside and met two more coonhound type dogs…both girls and around 6-7 months…LOL…the one, 'Sprite' was rolling on her back on top of my feet and kicking me with her legs…she was a ball of energy! We took Sprite over to the cat area to see how she reacted to cats (Carole has 3)…3 cats came over to me and started purring and rubbing against me (I swear that I didn't have meat or fish in my pockets)…there was a powder grey one with a pink nose that was so sweet…LOL…when I tried to leave, she hooked into my pants leg and one of the women there had to unhook her.
After looking in this building, we came outside and this big dog named 'Gateway' jumped up and put his paws on my shoulders and gave me a big ol lick right up my face! Hahahaha! He was adorable, guys! I was laughing, but the lady yelled for him to get down and was apologizing! I told her that it didn't bother me in the least (I'm covered in muddy paw prints by this time...LOL…no biggie). Gateway was such a sweetie…he was licking my hands and gently biting them…then when Carole said something to me, I turned to her and he plopped a big ol muddy paw right on my cheek! (BTW, Carole was pretty miffed by now making comments like, "Hmmm…dogs ALWAYS come to me!"). The lady gave Carole some dog treats and then Gateway jumped on her…she was pleased because he listened when she snapped "SIT!" and he just wagged his tail and licked my hand when I said it! LOL!!
So…Carole decided that she liked Gateway better than Dulcie and the lady got a leash for us to walk him. (BTW, lil Hercules followed us to the gate…heart breaking again!). When we left there, Carole put a hold on Gateway and was waiting for the paperwork to be done (home visit too).
From there, we drove back down closer to home and I treated her to an early dinner at The Outback for her birthday…LOL…we waited for our muddy paw prints to dry and mostly brushed the dried mud off! Dinner was fantastic (lighting low too, Thank God!)…I had Coconut shrimp for my appetizer and Walkabout soup (like roasted potato soup)…also had a center cut steak (medium well) and fries and a Fosters lager. Carole had the same meal, except she had Grilled shrimp and some kind of Peach drink. After that very filling meal, Carole ordered a chocolate pecan brownie covered with scoops of vanilla ice cream and smothered in chocolate syrup (I had a few bites…YUMMY!).
After dinner, we decided to go to a movie and neither of us really knew what was out right now (The theatre we went to, The Egyptian, has 24 theatres)…so the first one I recognized was "The Hitchhiker's Guide to the Galaxy"! So…we saw that! A lady in line said to me, "So, tell the truth…how many times have you read the book?". I told her that I was aware of the book but, embarrassingly never read it! Carole said she never heard of it! Well…we both really enjoyed it! It is a very…different…movie! Many people brought small kids and I'm sure those folks never read the book; there's no real sex or violence, but this is NOT a movie for kids…I can't explain, you'll just have to see it!
After the movie, we went back to Carole's house and she showed me some things she bought to decorate and then I headed home and jumped into the CyberArms of my CyberHubby! Talking to Jase was the perfect ending to the day!
****************************************
****************************
Sunday, I woke and had a big breakfast and just before I got in the shower, My sis called and asked me if I wanted to drive to Pennsylvania to go to a Fairy Festival. I first told her that I was too tired and then went to get in the shower...then I thought about the kids and called her back and told her I'd go...she told the kids and I heard them cheering in the background...LOL...makes an Uncle's heart go thumpity thump!
It was a pretty long drive to the area of Pennsylvania we were going to...it was outside of Glen Rock, Pa, way out in the country, amongst the hills...a bit over an hour drive. Griffin, at one point, grumbled, "Are we almost there?". My sis said, "Griffin, we'll be there soon...we just crossed into Pennsylvania.". LOL...his eyes got real big and he said, "Are we going to see Vampires?!". We explained that 'Pennsylvania' was a state and 'Transylvania' was an area in another country far away. He asked, "Well, are we gonna see Pennsylvania Vampires?"...LOL...sometimes, with kids, ya just can't win!
So we arrived at the festival (I think it's held on a 70 acre farm)...anyhoo, it was a huge area...tents amongst the woods and on hills...many vendors, craftspeople, performers and almost everyone seemed to be in costume! It was like being transported into some Faerie realm!! There were Faeries, Pixies, Brownies, Green Men, Satyrs, witches, wizards, Hobbits, Nature Spirits, Nockers, Ogres, Trolls...any kind of fantasy creature good or bad was represented! I was in Heaven! I was in misery, however, because I forgot my camera! Every minute I was seeing great photo possibilities! Gweni was the only one of us that was in costume...she had her Faerie wings and a garland on. The cool thing was that all ages were represented...everyone from infant to senior citizen was in costume...there were also quite a few goth boys and girls and a group of gay boys in brightly colored Anime/Ziggy Stardust type costumes. Griffin was so pleased with himself when he saw a small group of goth boys sitting on this log...he jerked his thumb that way and said to us, "AHEM! Vampires!". One of the boys heard him and got a huge grin on his face...such a cutie too!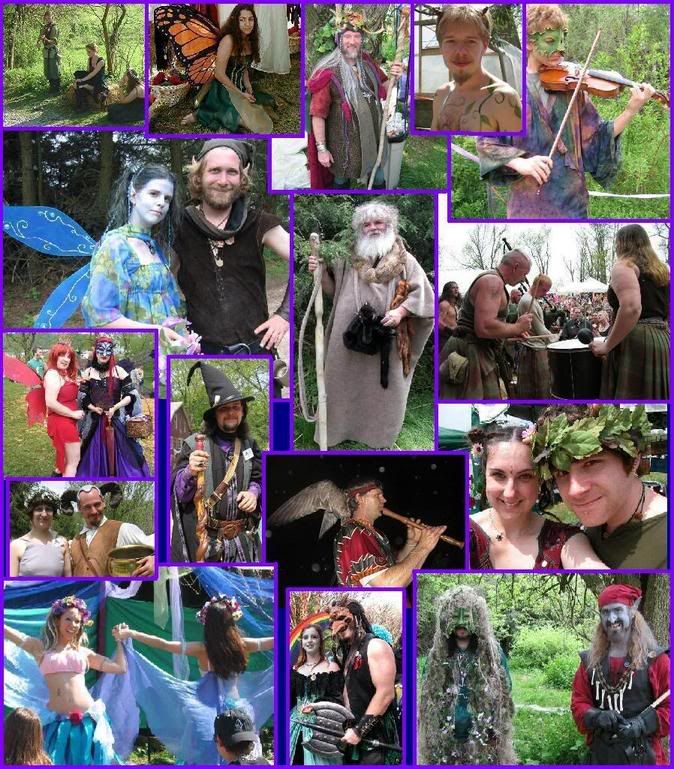 There was just so much going on at this festival, I can't begin to explain or describe it all...so, here's a link to their website...lots of pics and descriptions!
http://www.fairiefestival.net/
We are planning on going next year...maybe for the whole weekend (They have a camper). There is also one in Maryland on the 21st of May...not so sure this one will be as good...it will be outside of some arena (I need to find out more).
There was a long ride home and then again, I got to end my day with my wonderful CyberHubby! Thanks for listening to my excited chatter, Jasey! ~smooch~
Okay...This is one of the longest posts that I've made in a long time...I hope no one got hurt falling asleep at their desk! :)
..