Yesterday was quite a day! After work, I rushed home, put on my gym clothes and headed out to the gym...I worked out for about an hour and a half, showered and grabbed a quick bite to eat and my sis picked me up to go to a Psychic Roundtable. My younger sis is Wiccan and she and my older sis have been going for the past few Friday nights and wanted me to go. Last week was all about shamanism and totem animals...I wish I had gone to that one...the teacher lead them through a meditation to discover their totem animal and both of my sisters were surprised...neither had been thinking anything like what they discovered!
Anyhoo, last night we learned about Chakras...what they are, how to feel and test them and the mantras to strengthen them...very cool stuff! I wanted to include a chart of the main chakras, the ones we discussed...but I thought they were all kinda plain, SO...I made my own chart...I hope you like it!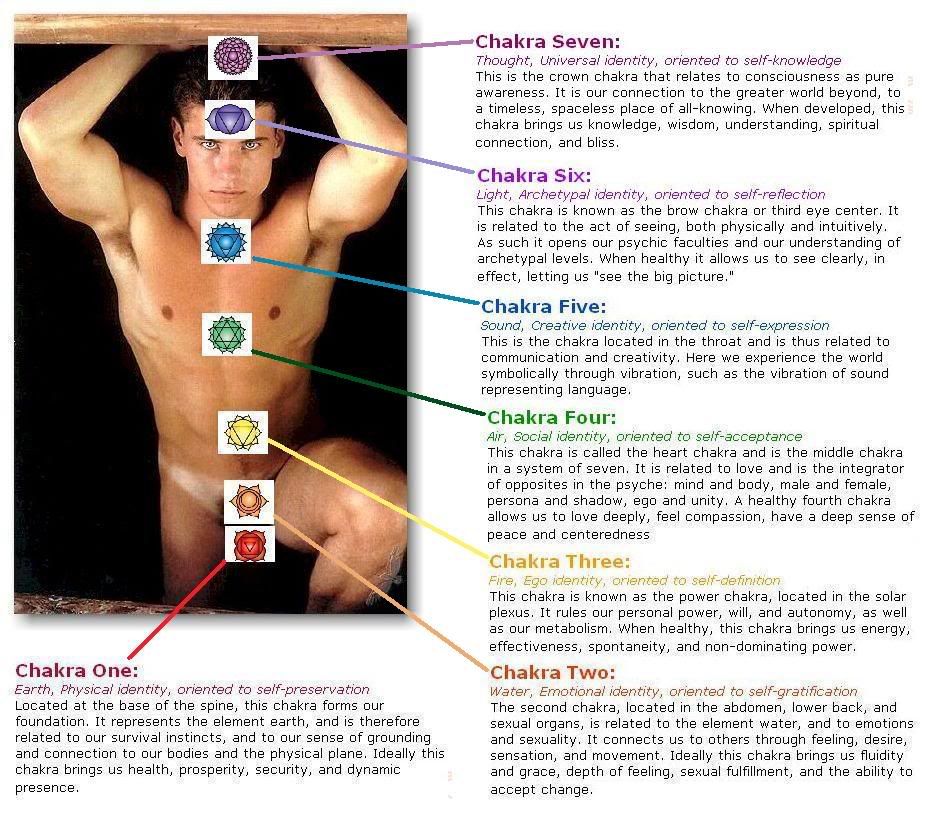 Here is a link to a site about chakras...
http://www.sacredcenters.com/chakras.html
The man teaching is a trained Psychiatrist and a Reiki Master and is very well spoken and helps each person with any of the things we were doing (classes are free, BTW). There was a nice group of around 25 people, varying in age! The youngest was a pair of goth girls, 16-17 yrs old, I'm guessing...they were SO cute! The rest seemed to range from maybe 30-60. The teacher's wife worked at the store where these classes take place...and she kept popping in just looking around...and Missy and I kept noticing that she was looking at us. So, after class, she walks over where my sisters and I were talking to another lady and she tells me and little sis that "You guys aren't crazy!"...LOL! Missy, of course, looked worried and I laughed...I told her that was good to know! She then says, "You two are Empaths...you just need to learn how to shield yourselves"...I felt so sorry for older sis...she looked so left out. Moving along...she says that there are books, websites, etc to teach this and she can show us how during one of the classes sometime. My sis asked, "How do you know we're Empaths?" and she replied, "Because I'M one! Once you train yourself, you'll feel others like you".
After that, I went through the store...it has so many cool things...and bought yet another set of Tarot cards (The Shapeshifters Tarot), a worry stone, a cute little owl figurine for mom and something for my cyberhubby.
I can't wait to go next week and see what we are gonna do...I love this stuff!
What better way to end my day than with a nice chat with my CyberHubby, Jase...and THEN, jumping into a chatroom with Jase AND our buddy, Adrian! We talked about serious stuff and silly stuff until the wee hours! Love you guys! :)
This morning I woke early, showered and went to give blood...after that, took mom shopping at the mall and Wal Mart. I bought two CDs...'Blaine Larsen : Off To See The World' and 'Rob Thomas : ...Something To Be'. I also bought swimsuits for the kids and I also bought them a Star Wars DVD..."Battle of Endor" (A little live action flick starring some kids and Ewoks! LOL!!). At Wal Mart, I helped mom pick out tons of flowers to plant in the garden...it should be really pretty.
So...now I'm home for about 2 hours...until I have to take mom to my lil sis' house for her surprise birthday party...LOL...she will be so outdone!
.