Make a doll of yourself! FUN!!
So...this is Mark the Doll with Roo accessory! (I had to use 'print screen' button because I couldn't figure any other way)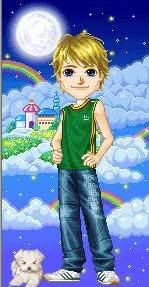 Here's a link to the page...
http://elouai.com/doll-makers/boy-doll-maker.php
*See the menu of things to use running along the top (numbered)...as you click on each one and make a choice from what comes up, you will notice the doll on the left changing to what you select!
.