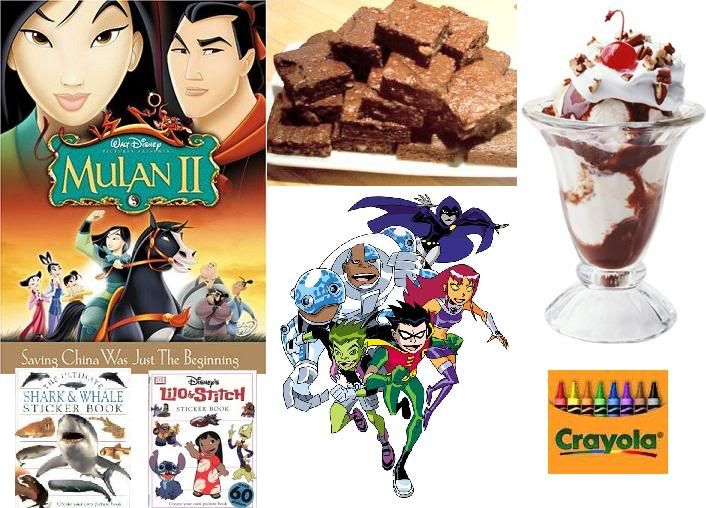 Saturday night, My brother-in-law took my sis out for dinner (Her birthday is today) and they asked me if I'd watch the kids. LOL...she said when they woke up Saturday morning, they asked if they could go over to Uncle Mark's yet!
I was happy to watch the kids and so, I prepared well! I bought them the kiddie dinners they like to eat, some brownie mix, ice cream, sticker books, drawing tablets, crayons and Mulan II.
LOL...I knew when they arrived because Griffin almost pounded my door down, screaming "Open up in there or I'll have to blow it down!" (~snicker~)...when I opened the door, Griffin attacked me and Gwen scooted by wearing a dress, that I could tell she had something under. After subduing my monster nephew, my neice says, "Watch this!" and proceeds to remove her outer dress to reveal a Snow White dress underneath...then pretends to fly around the living room! Bet you guys didn't know that Snow White was a superheroine, did ya? Came as a surprise to me too!
As I was fixing us all dinner (Chicken Nuggets and Mac for Gween and Pizza Rolls and Mac for Griff), Teen Titans came on...both kids (and me) love Teen Titans and Gwen stands up on a chair and starts dancing and singing the theme song...Griffin yells at her to "Pipe Down!" and, after I give him some noogies, decides to sing along (Uncle Mark accompanied, but I only know the part where they sing "TEEN Ti-TANS"...LOL). So, we ate and watched the Titans and then I put on "Mulan II" which they loved (I enjoyed it too)...they were sitting on either side of me so close that they each had a leg hooked over mine...LOL...Mom was across the room in a chair drinking her coffee. While that was running, I jumped up and put the brownies in and when the brownies were done, we had brownies and ice cream (LOL...they loved THAT!!).
After that, it was time for sticker books and drawing tablets...Griff drew and Gwen did both.
They are so funny...on one side of me, Griffin was rapid firing questions about sharks and Batman and on the other side, Gweni was explaining to me that she got her hair cut 'but not alot...just to her shoulders and it will grow again and she'll get it cut again and it will grow again and she'll get it cut and it'll grow'...LOL...I love it!
Oh...and I forgot...the little scammers...I bought a whole carton of juice boxes for them and when I opened the fridge and they saw cokes, they each asked for a coke...what was I to do? Of course they could have a coke! LOL!
Well...When I heard a knock at the door, I couldn't believe it...time had flown by and they were there to pick up the kids. Both said that they wanted to stay...and sis told them it was late and they had to go...so I packed up all their things.
LOL...I told sis they ate their dinners and I fixed them brownies and icecream...and they had cokes...she said, "Brownies, Ice cream and coke...it's gonna be a long night!".
Anyhoo...I guess that was a long post about babysitting, but...I enjoyed it and I haven't updated much lately!