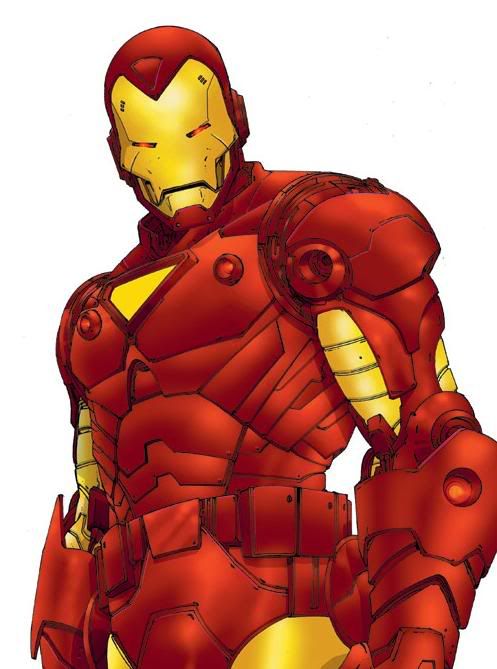 Nick Cassavetes Helming Iron Man
Source: New Line Cinema
November 29, 2004
New Line Cinema and Marvel Studios, a division of leading global entertainment company Marvel Enterprises, have signed Nick Cassavetes ("The Notebook," "John Q") to direct the highly-anticipated big screen adaptation of Iron Man, based on the legendary Marvel Super Hero. The film is scheduled to be a 2006 tentpole release.
The project, which is being produced by Marvel Studios' CEO Avi Arad (Spider-Man, X-Men) and Angry Films' Don Murphy, is based on a script by Alfred Gough and Miles Millar, and David Hayter. The studios will begin casting immediately.
"This is an ideal situation because Nick is a tremendous talent with a passion for the material, and we have had such incredible success working with both him and Marvel in the past," said New Line production president Toby Emmerich. "Teaming up again to launch a franchise as promising as 'Iron Man' is very exciting."
Arad added, "Being able to work with such an acclaimed writer/director as Nick Cassavetes to bring one of our pre-eminent Super Hero franchises to the big screen is really special. Nick grew up reading 'Iron Man' and personally loves the character. He shares our vision of how to bring 'Iron Man' to life in a way that will appeal to a mass audience as well as the core Super Hero fan base. This deal with Nick marks the perfect way to launch our second big Marvel franchise with New Line, a studio that we have enjoyed a great relationship with in building the Blade character into a Hollywood heavyweight."
Based on the long-running Marvel comic book series, Iron Man tells the story of Tony Stark, the enigmatic heir to the Stark Enterprises fortune. A driven inventor and executive who seems to have it all, Tony is haunted by his dark side. Though he commands his empire by day, by night he secretly becomes "Iron Man," the living embodiment of decades of defense spending and innovation. Strapping on billions of dollars worth of state-of-the-art armor and weaponry each night to fight crime, terrorism and corporate espionage, Tony begins to crack under the strain of his fractured lifestyle and must ultimately confront the one enemy he can never beat -- himself.
Iron Man marks the continuation of New Line's successful relationship with Marvel, which was initiated with the studio's hit adaptation of Blade in 1998. New Line built on the initial film's success with the release of Blade II in 2002, and is set to release the third installment of the franchise, Blade: Trinity, on Dec. 8.
Cassavetes' relationship with New Line has also proved to be a profitable one in recent years. His last directorial effort, "The Notebook," was one of this summer's biggest hits at the box office. He also directed the 2002 hit film "John Q" for the studio and is currently in production on the drama "Alpha Dog," which features an ensemble cast including Bruce Willis, Justin Timberlake, Sharon Stone and Emile Hirsch.
Marvel has an impressive track record when it comes to translating its renowned Super Heroes to the big screen with such blockbusters as Spider- Man, Spider-Man 2, X-Men, X-Men 2, Daredevil, and The Hulk. The company is also currently in production on the much buzzed about adaptation of Fantastic Four, which hits theaters July 1, 2005.
Emmerich is overseeing Iron Man for New Line along with the studio's senior vp production Stokely Chaffin, vp George Waud and creative executive Jeff Katz. Spearheading the production for Marvel Studios are Kevin Feige and Ari Arad.
****************************************
************
Iron Man Out of SYNC
Rumor, meet truth. Truth, rumor
December 06, 2004 - Tonight Online reports that *NSYNC member and pop star Justin Timberlake has won the title role in New Line's Iron Man movie. Timberlake, "who is currently carving out a Hollywood film career, is believed to have landed the role of alcoholic billionaire Tony Stark, who becomes a superhero after inventing an iron super-suit."
Timberlake is currently filming Alpha Dog for Iron Man director Nick Cassavetes. His big-screen debut will be in the forthcoming Edison, opposite Kevin Spacey and Morgan Freeman.
One big problem with these Timberlake as Iron Man rumors: they're inaccurate!
IGN FilmForce was advised by our trusty Iron Man source that there is no truth whatsoever to the reports.
Iron Man begins filming sometime in 2005 for a summer 2006 release. The script is by Miles Millar & Alfred Gough, with rewrites by David Hayter and director Cassavetes.
-- Stax
****************************************
**********
Iron Man Versus ...?
Who will Shellhead fight in the movie?
November 01, 2004 - After being peppered with e-mails from curious readers, IGN FilmForce has discovered who the villain will be in New Line Cinema's Iron Man movie. The project is now on the fast-track after New Line fell for David Hayter's rewrite. The studio is sending the script out to directors who can get production underway sometime in early 2005.
IGNFF has learned that, although he was in earlier drafts of the screenplay, the villain will not be The Mandarin, who is the Armored Avenger's arch-enemy in the Marvel comic. Instead, the nemesis in the film will be Howard Stark, the military industrialist father of title character Tony Stark.
Earlier reports have revealed that Tony's origin will be "completely different" in the movie than the Vietnam War-era one of the comics. Previous Iron Man screenwriter Miles Millar advised Wizard Magazine that Tony is "not really in touch with where his money comes from, unaware that his wealth lies from weapons, and that history comes back to haunt him. ... It's a great arc for a character to begin with, this selfish reckless playboy, that in the end becomes a hero."
Last summer, Marvel Studios CEO and Iron Man exec producer Avi Arad advised Cinescape Magazine that "Iron Man is about a kid whose father was bigger-than-life and he felt like, 'What's in it for me?' ... Then he loses his parents and never got to say a kind word to [his father] like, 'Dad, I admire you and I love you and I didn't mean to be an [expletive]."
Now this part is just speculation but it makes sense from a business standpoint to not use The Mandarin as the villain. After all, the character could be viewed as politically incorrect or worse. But more importantly, the role of Howard Stark opens up the possibility of casting another star alongside whomever wins the title role. Expect a major star to be courted to play Tony.
Iron Man is slated for a 2006 release.
-- Stax
...